Vietnam is a Southeast Asian nation. It has a surface area of 331,212 square kilometers (127,882 square miles) and a population of 99 million people, making it the world's fifteenth-most populated nation. Vietnam shares the land borders in the north with China, and in the west with Laos and Cambodia. Through the Gulf of Thailand, it has marine boundaries with Thailand, and through the South China Sea, it shares maritime borders with the Philippines, Indonesia, and Malaysia. Hanoi is the capital, while Ho Chi Minh City is the biggest city. (Commonly referred to by its former name, Saigon).
Vietnam is well-known for its broad range of unique cuisine, rich culture, and breathtaking natural surroundings. From the crowded hub of Hanoi to the gorgeous beaches of Nha Trang, Vietnam has something for everyone. The country is well-known for its wonderful food, which combines Chinese, French, and Southeast Asian culinary styles. It is also famous for its breathtaking scenery, such as the limestone islands of Ha Long Bay and the rolling hills of Sapa. Vietnam's eclectic architecture reflects its amazing past, which varies from centuries-old pagodas to French colonial constructions. Vietnam gives it everything, whether you want a thrilling city break or a chance to explore nature.
Top attractions in Hanoi and neighboring provinces
Hanoi, Vietnam's capital, is a bustling metropolis rich in history and culture. In 1010, Emperor Ly Thai To named Hanoi "Thang Long" (soaring dragon) from its location along the Red River. The city grew from swamplands to the iconic capital it is today through a thousand years of conflict, natural catastrophes, and successive regimes. Here are some of the must-see attractions in Hanoi.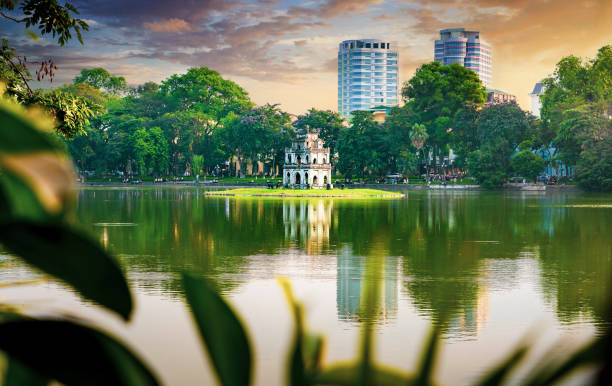 The Old Quarter
The ancient Old Quarter of Hanoi spans a single square kilometer with 36 streets. Each street has been home to skilled craftsmen and artisans who traded in the specialized goods for which it was named since the 15th century. The attractiveness of these streets is still there today. Prepare to be amazed as you walk through Silver str, Bamboo str, Silk str, and Decorating str, all within just a few meters of each other.
Hoan Kiem Lake
According to legend, in order to bring down the Ming dynasty, Emperor Ly Thai To was given a miraculous sword by a huge golden turtle that lived in the lake. Once victorious, Ly Thai To returned the sword to the turtle, who dived down to restore it to the gods. Hoan Kiem Lake is praised for its beauty as well as for insight into Hanoians' daily lives. Locals may be seen doing their regular workout and Tai Chi routines in the gardens at the water's edge. St Joseph Cathedral Saint Joseph's Cathedral (also known as Hanoi Cathedral) was constructed on the location of the Bao Thien Tower, which was the capital's most recognized landmark during the Ly Dynasty. The architect was influenced by Notre Dame de Paris's Neo-Gothic style.
Hanoi Opera House
This majestic colonial building built around the start of the twentieth century, is Vietnam's largest theater. After over 100 years of service, the Opera House was cautiously maintained in 1997 and outfitted with the latest technology. The facility presently attracts well-known performances, shows, and musicians.
Ho Chi Minh Mausoleum
From 1973 to 1975, this structure was constructed to contain the embalmed body of Vietnam's greatest political leader, Ho Chi Minh. Every morning, visitors and Vietnamese line for hours to pay their respects to the person who liberated and unified the country.
Neighboring provinces
From Hanoi, you can travel by bus to some famous tourist destinations in the North of Vietnam
Ha Long Bay, Quang Ninh
Ha Long Bay is a UNESCO World Heritage Site and an iconic tourist site in Quang Ninh Province, about 153 km east of Hanoi. The name "Ha Long" translates to "descending dragon." The bay is home to countless limestone islands and karsts of all sizes and forms. Ha Long Bay is located in the middle of a wider zone that also includes Bai Tu Long Bay to the northeast and Cat Ba Island to the southwest.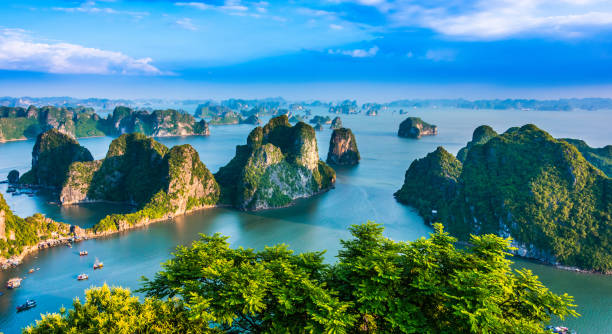 Trang An, Ninh Binh
Trang An tourist area is located in Hoa Lu district, Ninh Binh province, 3 km from Hoa Lu ancient capital, 7 km from Ninh Binh city, 16 km from Tam Diep city and about 96 km from Hanoi. With many unique features, in 2014, Trang An was recognized by UNESCO as a World natural and cultural heritage, where culture intersects with the magic, mystery and majesty of nature. This is a land of cultural and natural values, which contains many outstanding values with a unique natural landscape created by a harmonious combination of mountains, rivers, flooded caves the flora and fauna remains unspoiled and intact. This is also the only scenic spot in Vietnam that has many trans-water caves, follow each other to form a unique circle, attracting the exploration and discovery of visitors.
Sapa, Lao Cai
In 1992, Sapa was founded as a hill station by French colonialists. Now, it is the northwest's tourism hotspot. Sapa is designed to take advantage of the amazing panoramas that emerge on clear days; it overlooks a wide valley with mountains rising above on all sides. Views are frequently obscured by dense mist sweeping across the peaks, yet even when it's cloudy, local mountain-tribe people fill the town with colorful clothes and music. Sapa's skyline has continued to rise as a result of modern tourism development. But you're not here to just stay in town. This is the prime hiking base in northern Vietnam, from where hikers may explore the surrounding countryside with cascading rice terraces and little hill-tribe communities that seem a world apart.